The Twelve Days of Christmas in Arizona
now in picture book and board book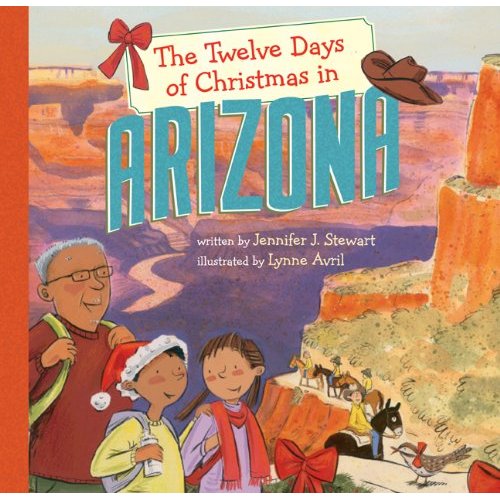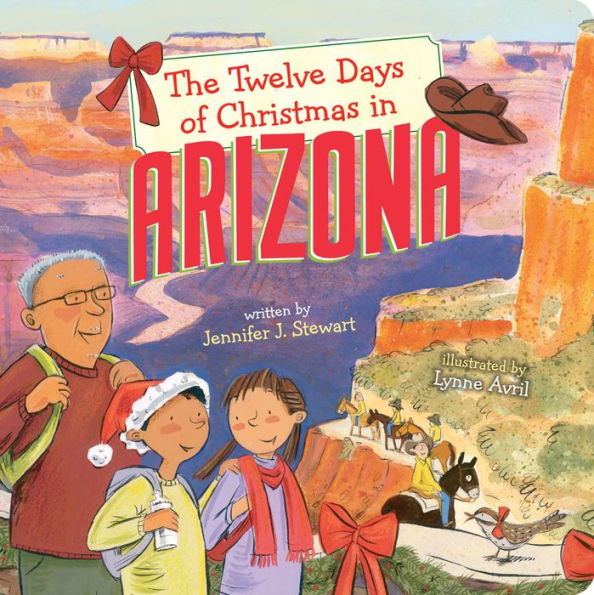 What if your cousin invites you to spend Christmas vacation in Arizona? And gives you all kinds of wacky gifts, like a cactus wren in a palo verde?
WELCOME TO THE 12 DAYS OF CHRISTMAS IN ARIZONA!
Ready to greet you are 12 mules a-hauling, 11 sleds a-sliding, 10 sheep a-leaping, 9 cowboys signing... and much more from the Grand Canyon State.
Carlos is so excited about his cousin Isabella's visit to Arizona that he gives her one of these VERY unusual gifts on each of the twelve days of Christmas, and Isabella writes lively letters home to tell her mom and dad about her trip. Lucky readers are in for a wild Christmas countdown!
Reviews
Please note that there are no trade journal reviews, because this book is part of a series.
I love it!!! The format is wonderful—kids will learn fun facts about Arizona without actually realizing it. I am sure that we will use it in storytimes and other children's programs. Arizona Public Librarian
I love the format and the content and know this will become a classic. You thought of everything! Arizona School Librarian
As a teacher, I find this fun and interesting book engaging on many different levels. Facts about Arizona are presented in a letter-format, about a young girl's visit to Arizona. This book works well as part of a letter writing unit or a unit about Arizona... It can be used throughout the year for a variety of purposes. Amazon Reviewer
Reading this wonderful book will be a new Christmas tradition in our house. I have lived in Arizona for over 20 years, and I learned a lot about the state from reading it. Amazon Reviewer
We ADORE your book. I read and sing over and over. It is a fascinating look at Arizona. Fan mail
Author's note
"The Twelve Days of Christmas in Arizona is my first picture book. It was fun to share my love for my beautiful home state. Didn't I get lucky, having New York Times bestselling artist Lynne Avril illustrate the book? And now, there's a board book version for even younger audiences."