All about Jennifer J. Stewart
You are welcome to borrow this bio...
Award-winning author Jennifer J. Stewart is known for her seriously funny books for children. Her debut novel, concerning a hot-headed, time-traveling, princess-chasing dragon named Madam Yang, is a favorite among schoolchildren. If That Breathes Fire, We're Toast! was named to VOYA's Best Fantasy list and the Oklahoma master list. She followed up her initial success with a tale of a rich orphan and a greedy stepmother in The Girl Who Has Everything, which Kirkus Reviews called "both amusing and engaging... fluffy and fun, with just the right touch of message."
Her latest novel, Close Encounters of a Third-World Kind, is loosely based upon her family's real life adventures working as medical volunteers in the kingdom of Nepal. Jennifer tended patients in village hospitals and taught health education classes to women and children. She also trekked to Annapurna Base Camp and rode a runaway elephant. This book was nominated for Arizona's Grand Canyon Reader Award, Connecticut's Nutmeg Book Award, and Maryland's Black-Eyed Susan Award.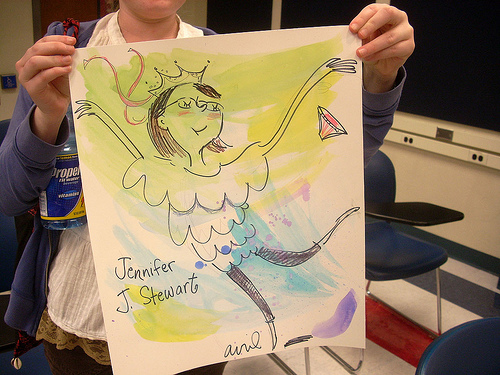 Jennifer's first picture book is The Twelve Days of Christmas in Arizona. New York Times bestselling artist Lynne Avril did the illustrations (and the sketch of Jennifer, too!). The book received the Glyph Award. Jennifer also writes educational nonfiction as "J. J. Stewart."
Jennifer was born in East Patchogue, New York, to a librarian mother and a physicist father. When she was four years old, her family moved to Tucson, Arizona, where she grew up and attended Whitmore Elementary, Townsend Junior High, and Catalina High. She received an honors degree in English from Wellesley College, followed by an M.B.A. from the University of Utah. For a while she wore suits and pantyhose, but then she found out that writing for children is a lot more fun.
When Jennifer is not writing, or speaking in schools or at writing conferences, she volunteers with the non-profit organization, Make Way for Books. Its mission is to give all children the chance to read and succeed. She is honored to be a founding board member.
Jennifer makes her home in Tucson with her physician husband. They volunteer as Flying Samaritans together. They have three daughters. Sadly, Hissy Fit, her Madagascar hissing cockroach has passed away.
Visit Jennifer on the Web at www.jenniferjstewart.com.