If That Breathes Fire, We're Toast!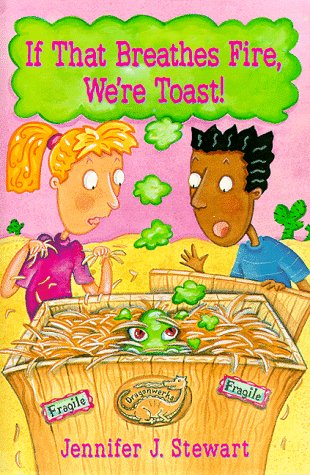 What if you're the kind of kid who doesn't so much need a fairy godmother as a dragon to breathe fire down your shorts...
Rick is none too happy when his mother ups and drags him from San Diego, where he had friends, to Arizona, where he knows no one except for Fat Boy, his cat. He dreads a long, dull, boring summer, until the day Madam Yang arrives on the scene.
Madam Yang is no fairy godmother. She's a fire-breathing, princess-chasing, time-traveling, hotheaded dragon, with her own ideas on just about everything.
Now Rick and his neighbor Natalie are in the hot seat. Will the two of them be able to keep Madam Yang happy, or will their goose be cooked?
Reviews
This enjoyable, slapstick story has tongue-in-cheek humor and interesting characters that suspend reality and will captivate its audience. Voice of Youth Advocates
...the sharp, funny phrasing and the likable, believable characters give the book freshness and zip, and the eye-catching cover will help it circulate in libraries. Booklist
The story beautifully blends fantasy and reality. This book is tough to put down! Children's Literature
Relaxed, readable debut... tongue-in-cheek humor will keep readers turning pages. Kirkus
The dialogue is fresh, and the characters are likeable, including the adults... A quick, fun read. School Library Journal
Children should find this book entertaining and easy to read. Heart of Texas Reviews
Author's note
If That Breathes Fire, We're Toast! was Jennifer J. Stewart's debut novel. She entered the manuscript in three different national writing contests and it placed third, second, and then finally first. In between, Jennifer revised like a maniac. It sold to the first publisher she sent it to.