Close Encounters of a Third-World Kind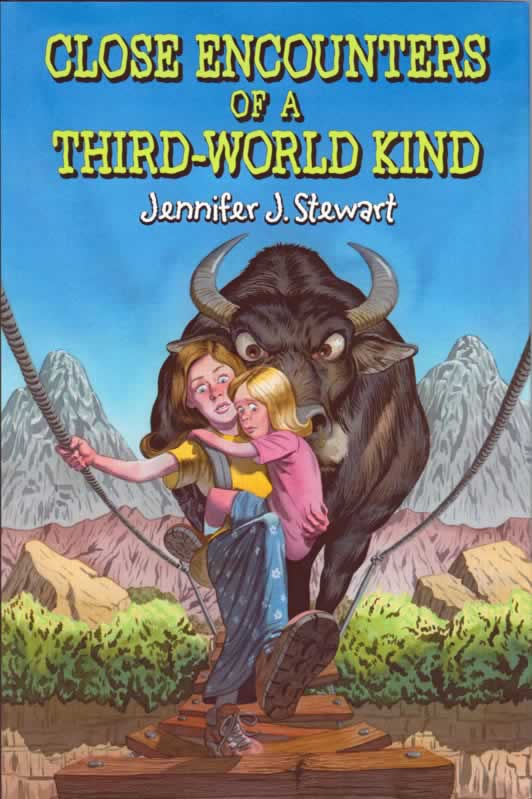 "Think of it as an adventure," twelve-year-old Annie Ferris's father tells her when he announces that the family will be spending the next two months in Nepal on a medical mission. But what sort of adventure is it if you have to leave behind your friends, sleep in a tent with your bratty little sister, and actually be expected to eat something called yak cheese? Not an adventure Annie wants any part of.
Then Annie meets Nirmala, a local girl, and she begins to get to know the real Nepal. Before long, Annie, her little sister, Chelsea, and Nirmala embark on a journey, and the girls find themselves lost in a real-life obstacle course—with a snarling dog, a creaking rope bridge, and a darkening night sky. Will Annie be ready to handle the adventure she finds after all?
In this warm and comic tour of self-discovery, Jennifer J. Stewart gets to the heart of what it truly means to be a family.
Reviews
Full of local color and snippets of cultural information, the comedy-adventure will surely please its intended audience. ...just enough danger to keep the pages turning and an authentically voiced narrator. Kirkus
Young readers should have fun reading about Annie and her adventures in this entertaining and thematically significant book. Children's Literature
This lighthearted book will lead readers into a totally different kind of life from their own. School Library Journal
It's unusual for a novel this breezy and easy-reading to tackle such challenging themes, but this one manages to bring genuine good humor to this story of an eye-opening journey. The Bulletin of the Center for Childen's Books
Stewart writes with humor and just the right amount of sarcasm to appeal to young readers. Not only does she demonstrate an understanding of a twelve-year-old girl trying to deal with a bratty younger sister while trying very hard to grow up, she also describes the appeal of an adventure in a country that changes her life forever. Language Arts
Stewart's light, often humorous style never lectures; she's also perceptively sensitive when laughter is not appropriate. Mixed in with the goofy, giddy fun are reminders of life's not-so-happy realities – a father's too-early death, incurable diseases, gender inequity, and uncertain futures – presented with just enough detail to encourage younger readers to think beyond their comfort zone … Smithsonian Asian Pacific Center Bookdragon Blog
My snake charming daughters in Nepal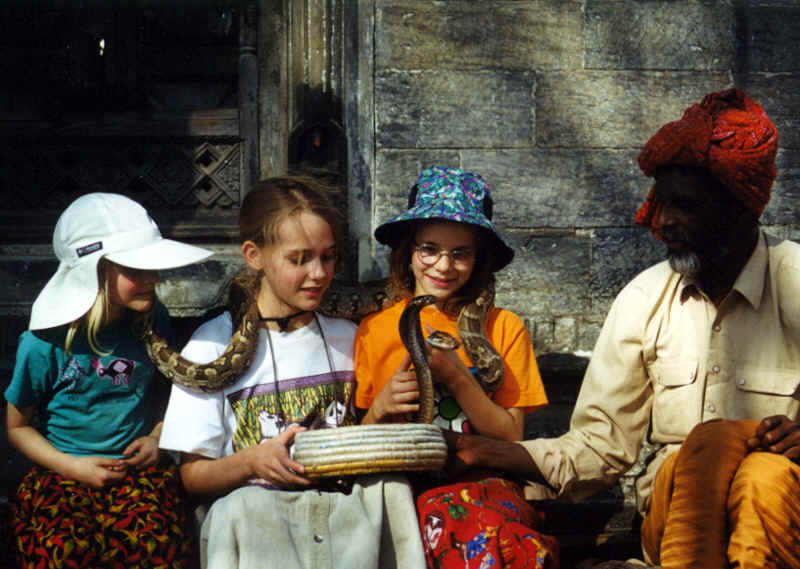 More reviews
I have a weakness for a good girl-adventure story (which is distinctly different from a good-girl adventure story), and Close Encounters of a Third-World Kind, at its best, offers just that. Not the kid about to lose a limb kind of adventure, but a kid-out-in-the-world, kid faced with (almost literally) cliff-hanging difficulties, kid keeps going story and reader happily treks along for the ride. Spectrum Home and School Network
Jennifer J. Stewart has an unerring ear for the preteen voice and sense of humor. Her own experience as a medical volunteer in Nepal provides authenticity to this hilarious yet heartwarming account of a spunky American girl's cross-cultural encounters. Bureau County Republican
Children have all types of adventures. Some are close-to-home, everyday kinds, while others happen far away... This book would be great for independent readers 9 or older The Noblesville Ledger
Teacher's Guides
Author's note
"No matter how many books I write, Close Encounters of a Third-World Kind will always be a favorite, because my family lived this adventure. We worked as medical volunteers in Nepal when our daughters were young. I couldn't have written this book without that experience."